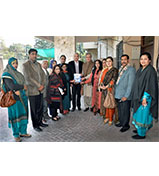 10-01-2013
PTI Office Lahore.
Meeting with Pakistan Tehreek Insaf on manifesto suggestions for women's empowerment.
Aurat Foundation organized an advocacy meeting on Suggestions on Women's Empowerment for Election Manifestos of Political Parties with central leadership of Pakistan Tehreek Insaf on 10 Jan 2013 at PTI, Punjab Office.
In the meeting, Shah Mehmood Qureshi, Vice Chairman PTI confessed that women are marginalized in our society and for the development of women it requires to sensitize the men and get them realize that women are equal to them. He said that gender blindness needs to be addressed intentionally and PTI has believed on equality of rights to all citizens without discrimination. He appreciated the AF's contribution for the preparation of political party's manifestos.
On AF suggestions for PTI election manifesto, PTI is distinguished among all political parties who acknowledged and prioritized the youth as well as women and people with disabilities the determining sector of social department. He stated that PTI will be ensured more than 33% representation at decision making level of party. Women would be given special focus in each and every policy of PTI. For ending violence against women and gender based violence. PTI has plan to change the mind set by creating awareness among men and taking special initiatives like men engendering policy and through promoting girls education. On the point of local government, he said that local government is on our priority. Local government is a basic tear of democracy and important part of functional government. PTI focus is village. PTI will introduce a unique system to maintain village solidarity and unity through alternate dispute resolution methods covered by law. On the point of Land Reforms, he added that PTI is working on the land reform policy and it will be positive for women. He shared that PTI also developing the gender policy.
Mr Jahangir Tareen, Head Policy Wing of PTI, appreciated the AF contribution and ensured that PTI would be focused to provide women enabling environment and equal opportunities for development. Sharing about on education policy, he said that if PTI get the governance opportunity, PTI will get double number of girls school in all over the Pakistan and ensure the establishment of minimum one girl's high school at union council level and will take special initiatives for the assurance of girl's education. PTI will declare an 'Education' emergency. PTI will increase education budget from 1.8% of GDP to 5%. PTI will increase the health budget. PTI will ensure potable drinking water for all. Introduce an effective socio economic measurement structure at UC level.
Shah Mehmood Qureshi emphasized on appropriate and regular coordination between the civil society and political parties. He said that "civil society is ensuring community awareness bridged the services and implementation we provide them". He fully endorsed AF's suggestions and ensured that PTI would be added AF suggestions in the PTI's manifesto.In the end of meeting, it was decided that follow up meeting will be held in coming week. Ms Malika, Director of Policy Wing PTI, ensured that PTI have already focused on all the areas which are suggested by AF.