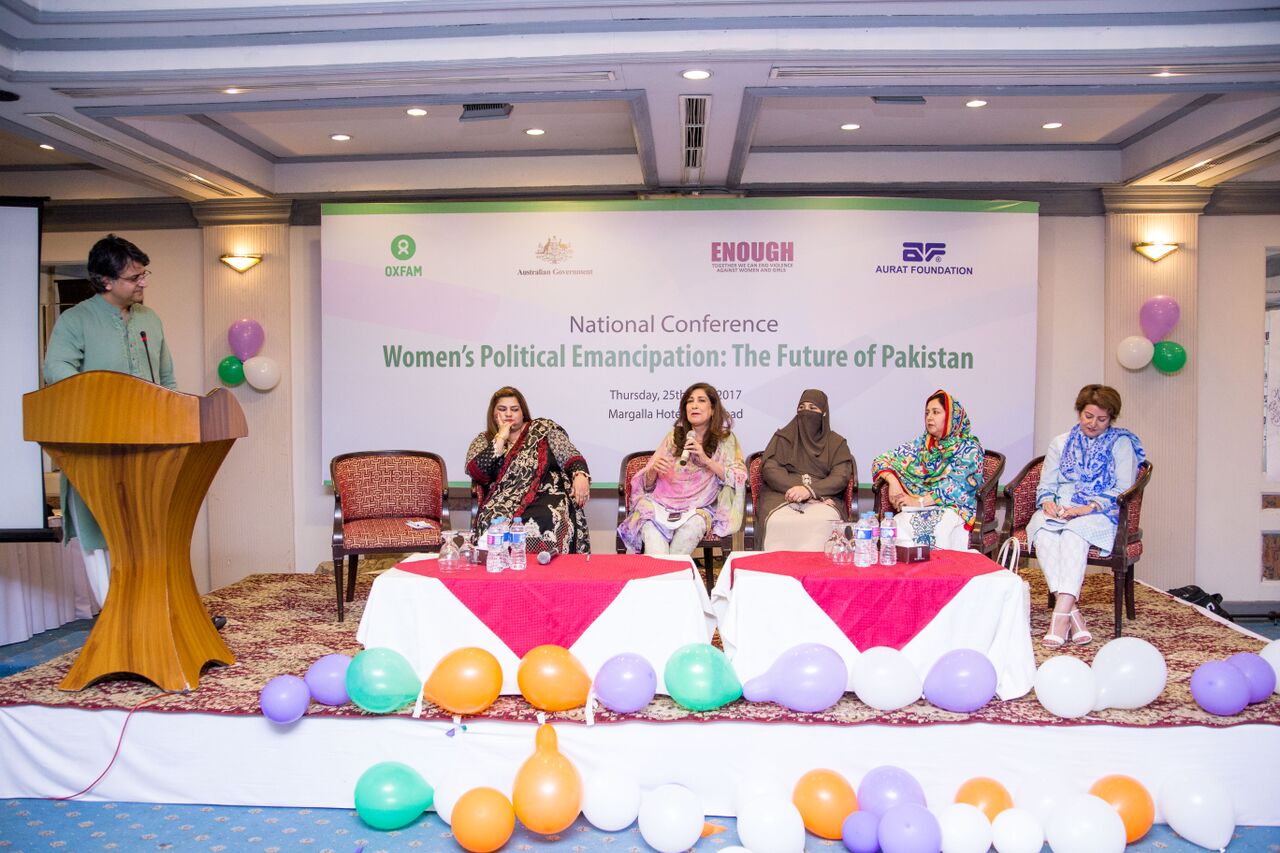 25-05-2017
Islamabad
Woman's Political Emancipation: The Future of Pakistan
Aurat Foundation (AF) and Oxfam in Pakistan organized a national workshop entitled Woman's Political Emancipation: The Future of Pakistan in collaboration with Australian High Commission. Participants include; senior policy makers, parliamentarians, judiciary, and provincial ministers and grassroots level women leaders from across Pakistan. Participants deliberated over ways to improve women's participation as candidates and voters in the 2018 elections and put forth a set of action-oriented recommendations.
The conference is part of LISTEN, a 4 year project which was implemented between 2013 and 2017, aimed at ensuring women's political empowerment and their inclusion in policy and decision making processes.


The Country Director of Oxfam Pakistan Mohammad Qazilbash said in his opening remarks that Aurat Foundation is very close partner of Oxfam and they are working with it form the very beginning. He said that there can be no justice in the world if the voices of women are absent from the decision making process. He said that Oxfam believes in building women's leadership and ensuring their meaningful political participation so they are able to influence decisions and policies that affect their lives. All women, including those who are poor and underprivileged have a right to participate in politics.
`I was asked to present the historical perspectives of women`s political participation but when I looked at the title of the conference, I read it the other way around the future of Pakistan is in women`s emancipation. The history of the political worker, the women who strove for the right vote, the women who struggled for political freedom predates the history of NGOs, which are new entities, but the political struggle has been going on for decades,` said Naeem Ahmed Mirza, Aurat Foundation`s executive director. He also threw light on feminist movements and urged the women to take advantages of these movements. He called for federal legislation to ensure women also get tickets for winnable general seats. "This will ensure women's meaningful participation in the electoral process" he said. Mirza also demanded that a special parliamentary committee should be formed to ensure implementation of legislation on domestic violence and sexual harassment."


In this session of discussion, women parliamentarians from PML-N, PPP, PTI and JUI discussed electoral reforms. The women parliamentarians were included Ms. Raheela Khadim Hussain, MPA, Chairperson Parliamentary Committee on Gender Mainstreaming, Punjab - PML N, Ms. Syeda Shehla Raza, Deputy Speaker, Provincial Assembly Sindh – PPPP, Ms. Naeema Kishwar, MNA - Member Parliamentary Committee on Electoral Reforms, KP - JUI (F) and Ms. Spozhmai Achakzai, MPA - Pashtoonkhuwa Milli Awamy Party, Balochistan.
Sindh Assembly Deputy Speaker Shehla Raza said, `When I sit in the assembly there are people who resist a woman deputy speaker but I believe that if you are strong and committed to the oath you`ve taken nobody can undermine you. Just reachingthe assembly is not the objective. We have to understand that our goalis to bring betterment. We are there to understand and find solutions to problems.
JUI (F) MNA Naeema Kishwar said legislation ensuring political parties to give 5% general seat tickets to women will be passed after Ramadan. "In 2018 election results will be computed according to gender so we receive accurate data on women voters' turnout," she said.
PML-N MPA Raheela Khadim Hussain said it is not enough that women participate in the 2018 elections as voters but must be brought into mainstream politics as candidates on general seats. "Punjab has made gender mainstreaming a priority," she said.


Shaista Pervaiz Malik, Secretary Women Caucus National Assembly of Pakistan said: `No one can deny that an increased women`s political participation is a game changer for the democratic process for any country, that not only validates the legislative and policy making, but also helps in ensuring an inclusive, contextual and substantive national sustainable development. Constitutional guarantees, international commitments and local laws therefore need to be honoured by the governments if they are serious about their implementation. If the governments are visionary, if they are clear on the benefits of inclusive democracies, and if they have a strong political will, they will surely tal(e measures in this regard.
She added, `Since the inception of Women`s Parliamentary Caucus, women parliamentarians have been striving to work on a variety of issues as a collective voice.
A number of landmark pieces of legislation for women protection and empowerment have been enacted, and policies influenced by members of the caucus and women parliamentarians over the years. While most of these have had effective implemen-tation, yet many need to be reviewed and improved; but this is how legal frameworks evolve and meet the emerging challenges as the societies change.
Amendments are thus introduced to align the laws with changing socio-cultural construct and the international human rights commitments. Raheela Khadim Hussain, chairperson Standing Committee on Gender Mainstreaming for Punjab, said, `Punjab is the only province that recognized the importance of gender mainstreaming. We are talking of mainstreaming women and bringing about equality.
This is about democracy and the right of the common person. Women must contest elections on general seats, through direct elections. We will not see the leadership of women emerge until we do so.


Leading by Example: Empowering Women in Political Participation and Leadership

In the third session, Ms. Rana Ansar, MPA, Sindh – MQM, Ms. Tehseen Fawad, MPA, Punjab and Ms. Fozia Ayub, MPA, Punjab shared their experiences while Majid Sharif Dogar, Director, Provincial Election Commissioner – Punjab spoke on measures taken for the emancipation of women in electoral processes and way forward for election 2018.


Speaking on the occasion, Australian High Commissioner Margaret Adamson discussed the importance of political participation of women for democracy and shared Australia`s example. She also highlighted the Australian High Commission`s commitments in Pakistan towards women's political participation. She said, "Governments and civil society everywhere need to encourage and empower women to contribute to inclusive social and economic development, and to promote security and world peace."


Additional Director General Gender Issues Election Commission Nighat Siddique who was the chief guest discussed the measures being taken ahead of the 2018 elections for women's participation. Ms. Siddique said, in 2013, women's participation was encouraged but more work was needed to be done ahead of 2018 elections and the ECP is making all efforts to ensure electoral reforms make women's participation a priority.